What are Changemaker Camps?
Short-term, intensive bursts of focused learning and reflection on a target challenge area.
Combine collective passion and wisdom to redesign your own mindsets, relationships, curriculum, and/or systems.
Who are Changemaker Camps for?
Any employee of a partnering Changemaker school or district may participate for free. All previous Changemakers regardless of current affiliation are also welcome to join.
Professional development credits will be awarded upon completion of any multi-part Changemaker Camp (4.5 to 6 CEUs).
Click the overview flyer below to download and share. To register – click here to sign up on Zoom.
Upcoming Changemaker Camps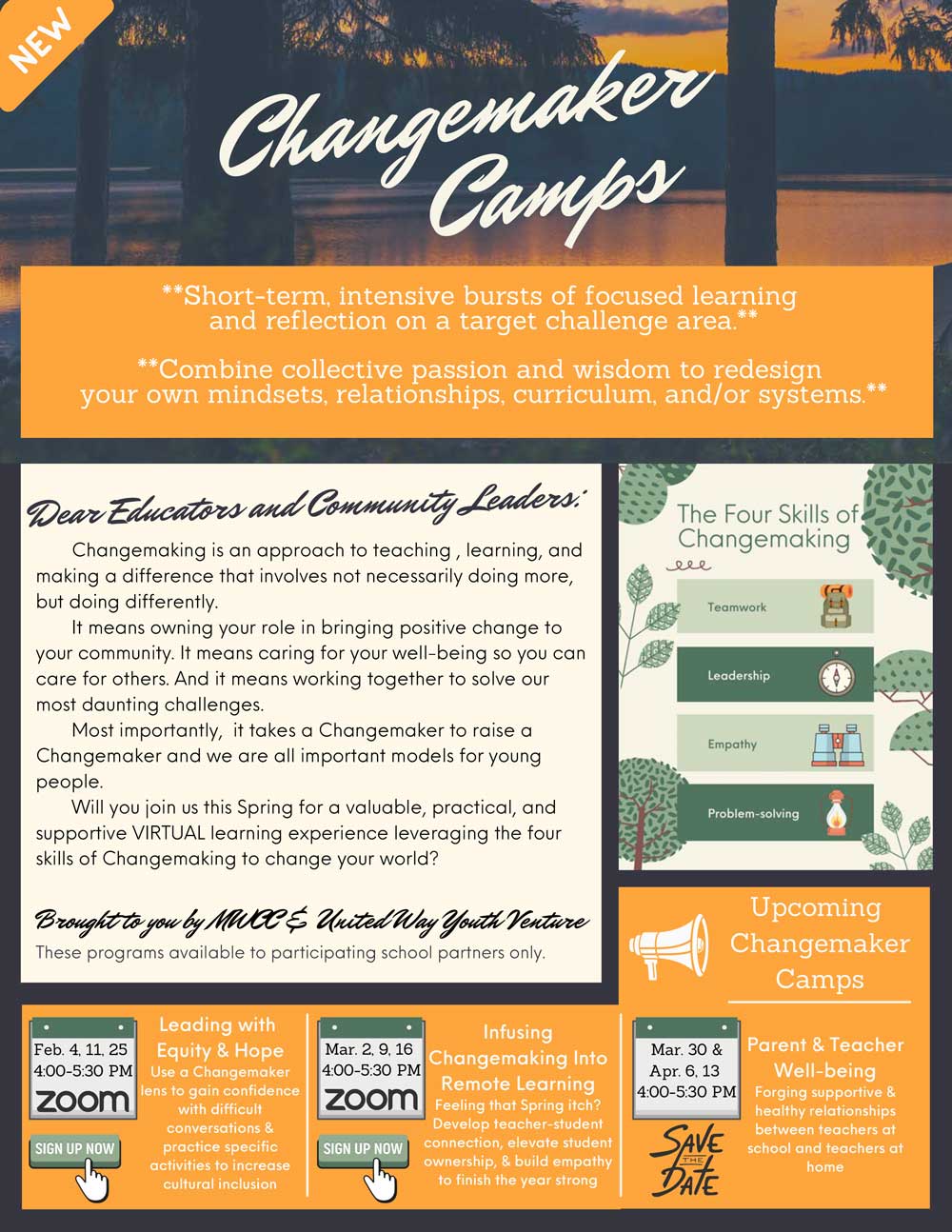 Changemaker Camp: Leading with Equity & Hope
Join this three-part learning opportunity for teachers, school administrators, and other adults looking to better support diversity, equity, and inclusion for young people.
We'll apply a Changemaker lens to gain confidence with difficult conversations and practice specific activities to increase cultural inclusion in our schools–with students, among colleagues, and interfacing with our community.
Leading with Equity & Hope will be facilitated by Changemaker Trainer, Angele Goss. Angele is an expert consultant and trainer on diversity, equity, and inclusion work. She is a passionate and sensitive presenter on cultural competency and engagement for many community organizations.
Angele has been an educator for 16 years, working with underrepresented K-12 students on college and career readiness. She has an incredible imagination, loves young people, has a not-so-secret obsession with organizational systems and planners, and is a lovely and warm person.
All Camp sessions run from 4:00-5:30 PM on Zoom.
Week 1 – February 4

Week 2 – February 11

Skip Week

Week 3 – February 25

Skip Week

Optional 4th Session – March 11
Changemaker Camp: Infusing Changemaking into Remote Learning
Educators–and in particular, teachers: We know you are working hard every day to spark the interest and attention of your students, while checking off progress toward curriculum standards. You are carefully gauging student understanding at the same time you are observing their well-being. And still, there are many times when you feel that solid connection with students just isn't there.
If this description resonates for you, then our second Changemaker Camp offering of the year might be just want you need to power through the spring semester!
Sign up for our three-part Infusing Changemaking into Remote Learning Changemaker Camp, where we will support each other, develop and test concrete ways to build teacher-student connection, elevate student ownership over their learning in your class, and increase empathy. A fourth optional session is available for peer-to-peer feedback on new lesson ideas, techniques, etc. on April 6.
This Changemaker Camp meets on Tuesdays: March 16, 23, and 30 from 4:00 to 5:30 PM via Zoom. Pre-registration is required. Free to any participating Changemaker school/district staff. Click here to register.
Changemaker Camp: Parent-Teacher Well-Being
COVID has drastically changed what learning looks like and how relationships between school and home are shaped. It has also significantly–and often negatively–affected our individual health.
Join Vipin Thekk and Changemaker friends during this third installment of Changemaker Camps–like our other Camps, this too has three parts with an optional fourth session for feedback and reflection. Created in partnership with the PBS television network and Ashoka, this Changemaker Camp is intended to forge stronger connection between teachers and educators at school (that's you!) and teachers at home–parents.
Registration is not yet open for this Changemaker Camp, but please save the date on your calendar for March 30, April 6 and 13 with the fourth optional session on April 20. Sessions will run from 4:00 to 5:30 PM via Zoom. Pre-registration is required. Free to any participating Changemaker school/district staff.
Link to register to come soon.