by Gabrielle Holland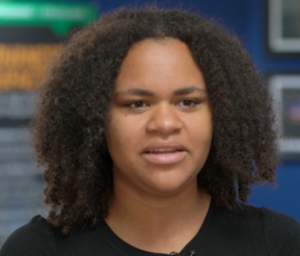 Hello my name is Gabby Holland, I have been working with United Way Youth Venture this summer as an intern. I am also a part of the Fab 5, a United Way Youth Venture team that fundraises for the Apple Valley Center Nursing Home, as well as other local organizations. When I think about my journey with United Way Youth Venture and the Fab 5, I feel so incredibly grateful. Especially for all of the things I have learned in the past seven years. I think I learned one of the most important lessons last year while continuing to develop the Fab 5 team. Throughout last year, there was a very clear theme of friendship. Until recently, I couldn't quite figure out what made our Venture so successful. This year I finally figured it out that the most important thing to gain success is a steady team.
Throughout the last four years in high school many members have come and gone from the team. As discouraging as this was, deep down I knew it was for the best. As I approached senior year I was nervous about what this year would look like, especially because of all the recent changes in life, but I had a feeling it was going to be the best year yet. The Fab 5 went into senior year with just two active members. About halfway through the school year we made an addition of two new members. I didn't know it then but I would soon realize they were the missing pieces to the Fab 5. After they were officially a part of the team, I finally felt like the team was complete. This feeling was strange because I have never felt that way about the team before. Each team member fit perfectly into the team and filled a role that was ideal for them. Claire, one of the original members of the Fab 5 also known as my sidekick and partner in crime, has played the role of decision making, planning, organizing, and a little bit of everything else since the beginning of freshman year. No matter how hard or busy we became she was always right by my side and never gave up. She has helped plan and organize all of our most successful fundraisers and events we have done. Being able to share knowledge of everything the team has been through with someone who has always been there from the start is incredibly comforting. Even though we were a pretty great duo we got overwhelmed with all of the weight on our shoulders, and we knew we needed to start looking for help.
In the fall of senior year, we were placed in the library for an online class. Claire and I went to the back of the library and found an empty table to sit at. Right after the bell rang a girl we have always gone to school with, but never really talked to, walked up and sat with us. Her name was Lili; she was very quiet at first and did her own thing at first while Claire and I would use the other half of the table to plan upcoming fundraisers and events for that school year. As we went on and would discuss our plans Lili slowly started putting in her input and offering advice. This was great. We loved hearing opinions from others, especially people outside of the team. She then slowly started helping us with small things for our events. Shortly after, Claire and I decided to ask her to officially join the Fab 5 as our social media representative. She happily agreed to take on the role, making her an official member of the Fab 5 in October of 2021. She picked up on things quickly and was always quick to help out wherever needed. She brought so many skills to the team such as her social media skills, decision-making skills, creativity, and management skills. Most importantly, she brought a listening ear; she was willing to listen and help comfort or solve any problem that was brought to her. This was a super beneficial skill for the team to have. At this time, the team felt steady, but still felt like we were missing someone.
A few months later Tori was placed in the same library class with the three of us. She started to follow in Lili's footsteps, by helping the Fab 5 and volunteering at any event she could. Not long after she officially joined the Fab 5 in February of 2022. Tori is the life of the party and always knows how to make everyone laugh. She always puts the team in a good mood. She's also very easy going and quick to roll her sleeves up and jump in wherever is needed. She also fills the roles of graphic designer, and finding the most efficient way of getting things done. She was the final missing piece we were searching to find. I would not have been nearly successful or even made it through this year without these three people by my side. It took me years to figure out success starts with a steady team. When you find the right people that you build a strong friendship with and can trust, then nothing is off the table. You can accomplish anything you collectively work toward a goal. This year brought to my attention that the friendship in the team is the most crucial thing for success.