We want to acknowledge Teri Smith, Ally of The Holiday Spreaders Venture Team. She has been their Ally since their official launch in March of 2014. Teri has been a tireless supporter of The Holiday Spreaders' efforts to raise awareness and support for those citizens who are struggling with Alzheimer's and Dementia. She is the epitome of a non-controlling adult, having wisely guided the Team with advice, selfless volunteer help with their monthly activities and providing rides long before the students could drive themselves.
Teri's eldest son, Ethan, s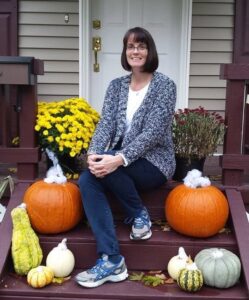 tarted the Venture in 8th grade at Sky View Middle School and continued to lead the Team throughout his time at Leominster High School. Teri's younger son, Devon, took over the Venture when Ethan graduated. Devon has since graduated and Teri continues to give of herself to this Team, even though her children are no longer involved. Teri was awarded the UWYV Ally of the Year award in 2015 and the Team she so generously supports was awarded the UWYV Changemaker of the Year award in 2017. Thank you, Teri, for all you have done for The Holiday Spreaders, United Way Youth Venture and the patients at Leominster Crossings who The the Team brings so much joy to each month. We are grateful for you.