By Alex, age 11, Leominster – Youth Reporter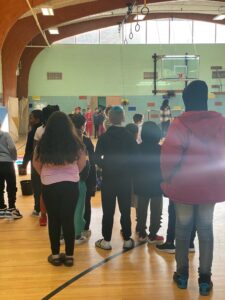 Kids are stressed. Adults are stressed. A lot of us are stressed. A second grader from the Venture Team, Kids Leading Kids, at Crocker Elementary School's 21st Century After School Program said, "One of my friends was using a scrunchie as a fidget, and the teacher thought she wasn't paying attention. So the teacher took away the scrunchie." So Crocker's after school changemakers decided to try and change that. For one afternoon, the kids took over. Adults could participate, but they had to step back and let the kids take charge. Kids from grades two to five taught their peers. This meant the kids could prove that a nine year old could teach an 11 year old. 
About 70 kids participated, including the Venture Team. There were four activity stations. A diamond painting station, run by Ednabelle, Trinity and Shyla, where kids took sticky gemstones and stuck them onto a shape to make a mosaic keychain. There was also a Rainbow Loom elastic band bracelet station, run by Avery and Kendyl, an obstacle course, run by Eva, Nellie and Candace, and a rock painting station, run by Joanne and Aniya. This offered the kids an option about what to do. These stations were all monitored by adults, but it was the kids who took charge and taught the others how to do each task. This was amazing to see, because many times adults disregard kids' ideas, because they're "unrealistic" or they think they'll have to do all the work for kids.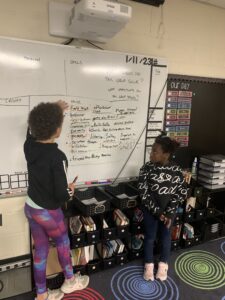 The Venture Team wanted to help kids make friends, try new activities, and take their minds off stressful things. They also wanted adults to join in the fun too. Did their idea work? Tammy Tonry-Beaulac, director of the after school program at Crocker thinks so. "The students truly enjoyed the centers and using the very special materials to create their projects. The students involved did an amazing job leading each center. Even teachers were commenting on how wonderful it was to work with students that they normally didn't get to work with." The after school program staff are talking about how they can have more kid takeover days. The Venture Team will also use a survey to get feedback from kids and adults. This all goes to show just what kids can do if they just have an opportunity to lead.