Many Venture Teams this past year made poverty their main problem to help fix. In this day and age, poverty is increasing exponentially, especially in Massachusetts. In 2018, about 10.5% of Massachusetts population was below the poverty line (www.talkpoverty.org). While that is definitely not as bad as it could be, there is still tons of room for improvement regarding poverty in Massachusetts.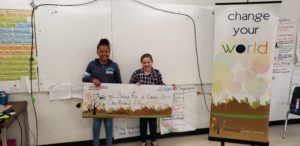 Venture Teams like Baking for a Cause and Sports For Smiles have made it their mission to help their peers that may be struggling with poverty. Baking for a Cause from McKay Arts Academy raises money through bake sales to help lessen the cost of field trips for their peers. Sports For Smiles from Sky View Middle School collects used sports equipment to give to students who can't afford to play sports in the city of Leominster. These aren't just the only Venture Teams doing this, many more are joining with local homeless shelters or foster homes to help more people in their community.
Teams like Dream Helpers from Longsjo Middle School, who are helping local foster children by raising money to purchase and give personal care items to them, or Save the Homeless at McKay Arts Academy, who hold fundraisers at Our Fathers House in Fitchburg to help the homeless population. These teams are creating a huge difference in their communities by helping those who need it, and who are often overlooked.
To check out the Venture Teams mentioned here, go to our page at www.mwcc.edu/uwyv/teams