Organizing, cleaning, baking, reading, blogging and if I am being honest, playing games on my phone – a lot. These are the things that I am filling my days with. I am home, just like many of you who are reading this, due to the Covid-19 emergency in Massachusetts.
I often think about my Youth Venture students and I hope they and their families are all safe at home and doing well under these circumstances. I miss them!
I hear a lot about how people are paying it forward by acts of kindness. Many people are showing appreciation and thanking healthcare workers on the frontlines of the coronavirus pandemic. This is a time that parents are using to teach their kids kindness and compassion. Families are delivering groceries to the elderly, or implementing "TP Tuesday" (It's a thing!) by delivering toilet paper and hand sanitizer to their neighbors. This wonderful news of paying it forward made me think of a Longsjo Youth Venture team that is doing just that.
Longsjo Youth Venture Team Pays It Forward
Sam and Me'yah are the Longsjo Middle School students on a team that launched on 2/14/20 Valentine's Day.  They are called LHCA – Let's Help Cancer Awareness. This is the Longsjo Youth Venture team that is paying it forward, because……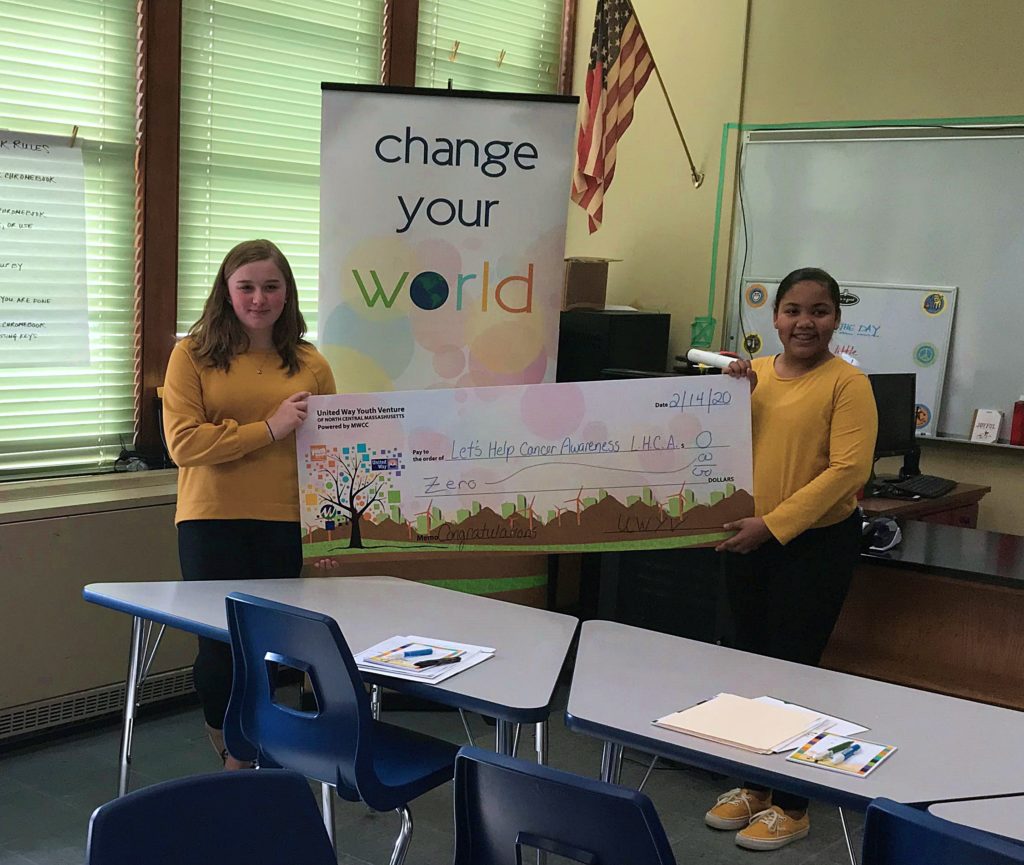 Me'yah has been the recipient of a full karate scholarship that the Youth Venture team Karate for Kids established.  Karate for Kids is a Fitchburg High School YV team that launched three years prior on 2/14/17 also on Valentine's Day – a very cool coincidence! So you see, Me'yah and Sam are now paying it forward with their Youth Venture team LHCA.
From Venturer to Panelist
Ethan Chandler, Fitchburg High School Senior,  is the lead venturer of the Karate for Kids team. Here he is being interviewed at the Youth Venture Spring Showcase.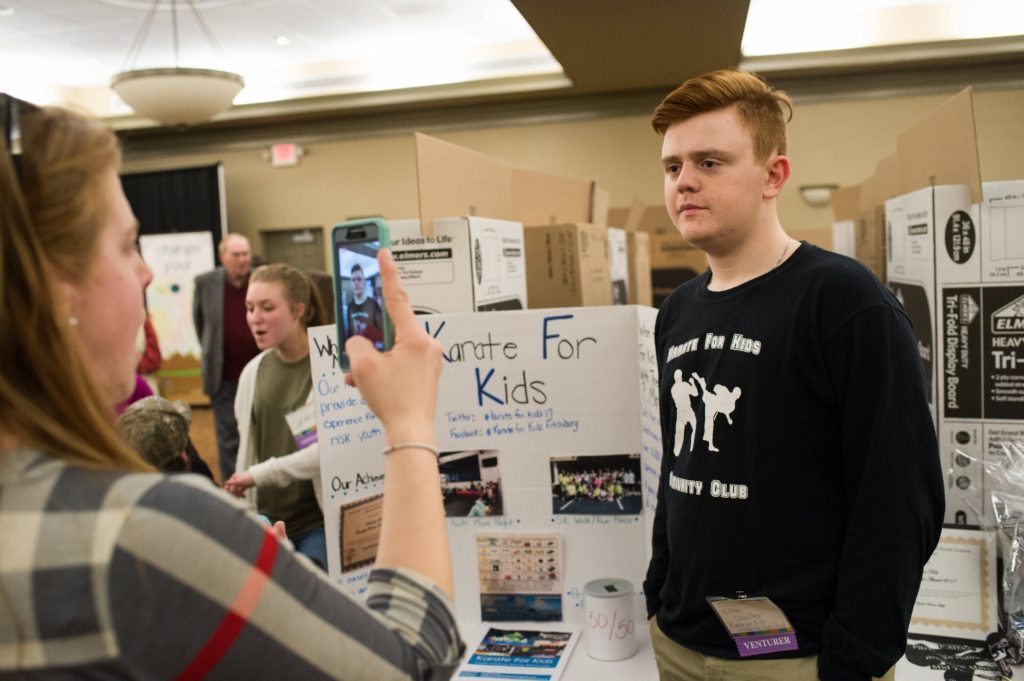 Here is Ethan again on the left, as a panelist for Me'yah's Youth Venture team. I don't know of any other student who has done both. These Changemakers have truly "come full circle" when you think about it.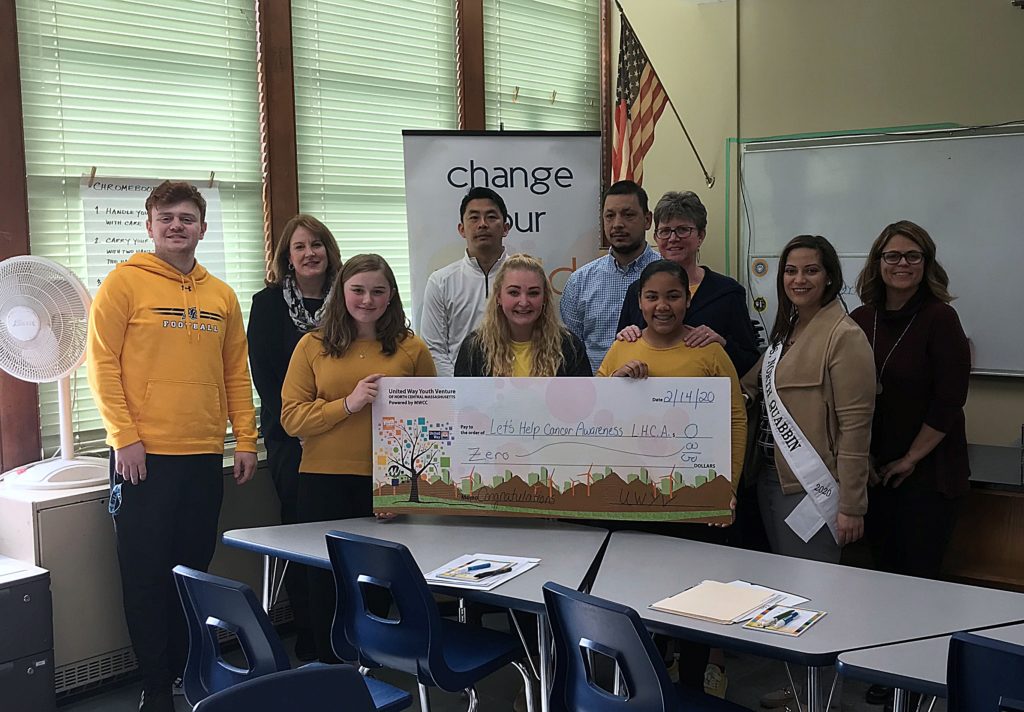 I am happy to report that Ethan and the other panelists were very impressed with LHCA's presentation and launched the team.  Let's Help Cancer Awareness is partnering with Why Me and Sherry's House in Worcester, MA. The team will hold a raffle to raise money so that they can buy stuffed animals. The team will then deliver the stuffed animals to children that are staying at Sherry's house while undergoing cancer treatments. The team did not ask for any seed funding, as they plan on holding a 50/50 raffle.
Check out this short video clip of their final panel. Me'yah talks about their inspiration for this idea. Congratulations to the LHCA team. I look forward to seeing their venture unfold!
Stay Informed and Reach Out
All of us at Youth Venture want to stay in touch with our students and champions. For the latest news from Youth Venture, please follow us and feel free to reach out via email, text or social media.
Facebook 
Twitter 
Instagram
YouTube
For any Youth Venture students that want to reach out to me, please email me at Kmaloney1@mwcc.mass.edu. I would love to know how you are doing and what you are up to!
Also, be on the lookout for videos from our full time outreach – Jake. These will be featured on Facebook, Instagram and YouTube. Let's all stay connected during this time!