by Lili Kaeppel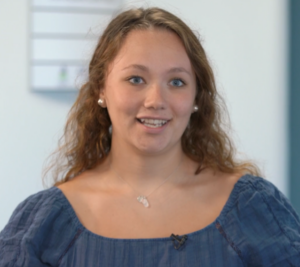 Senior year I was sitting in the library during second period at a long table in the back of the room. I was not really friends with anyone in the class, I only knew of these people. I heard the door open to the library and two girls from my grade walked in and little did I know my life would change after that day. When I decided to go sit next to Gabby and Claire that day, you could tell we were all nervous. The slight conversations and the awkward laughs is what built our friendship.
After a couple classes went by, I would overhear conversations about the "Fab 5". Of course, I knew what it was; they were the most well-known group in high school. I would overhear their fundraising ideas, Venture struggles and problems and to top it all off the amount of money they have raised. The work they were doing was amazing. Raising thousands of dollars after putting fundraisers together is something people can only dream of, but in reality, the Fab 5 did it. After helping Gabby and Claire do little things in the Library for the Fab 5, I was hoping the day would come where they asked me to be a part of the group. I knew I could put another after school activity under my belt and help the community. Around October of 2021 during the second period, we were working on flyers for the Halloween drive in- movie. There the question was finally asked.
The Fab 5 was in need of some social media help and I was their person. To get the word out and make us more well-known…if that was even possible. I started to work with Gabby and Claire even more now, not just during that class. We would work for countless hours after school to make sure all of our fundraisers went smoothly and we had enough money to help donate to our organizations. My first fundraiser with the Fab 5 was the Halloween Drive- In and let me say that was an experience. When I got to the high school, everything was already set up so I just had to prepare for the people coming. The movie went smoothly and we had a good turnout. The money we raised for the drive in went right to the senior class to help pay for prom and other things they needed. We made about $1300 from that fundraiser. It is crazy to think you can make that much money from something when you put enough hard work and dedication towards it. When that fundraiser was over there was no stopping and we kept planning. Fundraiser after fundraiser we kept planning. We made a raffle calendar, sold carnations, did ANOTHER drive- in movie and did immense amounts of canning. My favorite fundraiser is our movie nights.
When spring came and we started to plan another movie night and that is when another team member joined us. Her name is Tori. If there were ever a person you could label the "life of the party" it would be her. Her laughter, humor and creative thoughts have absolutely changed our group and the way we all think. We were planning our movie night trying to think of a good movie and calling department stores to get donations. Zooopia was our first choice and we all went along with it. We got shirts and bunny ears for the night to fit the scene. For this movie, I was able to be more involved; I was there for all the set up and clean up. Not all fundraisers are successful and this was one of them. The process of having a Venture is trial and error. Everyone needs to experience it or you won't learn. We did everything the same as the previous drive- in but something was off about this one. We had somewhat of a good turnout but nothing like before. We only raised about $600 that night. It felt like a complete failure and we were all discouraged. However, as a group we had to sit and figure out what we did wrong and how to fix it for next time. There is no book or website to teach you how to perfectly complete a fundraiser and tell you exactly how to make thousands of dollars. You fail and you learn, that's how you personally grow as well as the group.
Sadly that was the last drive- in movie we were able to get in before the school year ended. We were able to complete a raffle calendar for the month of June. We were able to get all of the prizes donated and went around so many neighborhoods to sell them. We went to all of the classrooms and teachers in our school to try to convince them to buy a ticket. We were able to make a solid amount of money from the fundraiser. Our senior year was coming to a close and everything was coming so fast. We had a Youth Venture conference where we won the Changemaker Award, which was amazing. We were so honored and it was such an amazing experience. We were all able to surpass the 100 hours of community service in one school year. After the school year ended, we all went back to school to go pick up our caps and gowns. We threw a cap decorating party for the seniors and it was a final goodbye to all of our high school friends before graduation. We all sat outside, ate some yummy food we had donated and finished our caps.
As summer started, the Fab 5 is still going strong. We have been able to go canning a lot and do lots of fundraising. We were able to help at the 21st Century Summer Program. The kids called us the Fab 4 cause there were only 4 of us…believe me we are trying to find a fifth person. We were able to teach the kids how to make calls and ask for donations and to step out of their comfort zones. The kids were able to set up their own Ventures and take full responsibility for them. As the month of July ended, we hope that the kids took away some sense of leadership and responsibility to things that they want.
As we continued to work with United Way Youth Venture this summer, we have still been able to keep up with fundraising. We were able to get Apple Valley all of the things they want for summer. We got them some outdoor games and supplies to do crafts. We are trying to find other charities and non-profits we can help.
With Tori and I shortly leaving for school we are trying to plan what the Fab 5 will look like during the school year. I will continue to do their social media and make sure everyone knows who we are. When I come home, I plan to help Gabby and Claire fundraise as much as I possibly can. We plan on having meetings once a week while still at school to make sure everyone is on the same page to keep the group going smoothly.