Healthy Minds
2023:
🌟 Meet the Minds Behind Healthy Minds Youth Conference 2023! 🌟
Picture this: a vibrant summer day at the MWCC campus. On July 26th and 27th, we brought the Healthy Minds Youth Conference to life, turning this campus into a playground of inspiration and growth.
✨ What We Achieved:
Our event was like a treasure trove of mental wellness gems, designed to help young people discover the superpowers within themselves. We guided Fitchburg's 21st Century Summer Program Elementary & Middle students through a whirlwind of adventure, jam-packed with interactive workshops on the six essential ingredients for a Healthy Mind:
Restorative Sleep
Self-Care & Compassion
Mindfulness
Social Connection
Nourishment
Joyful Movement
📸 Sneak Peek: Nourishment & Joyful Movement: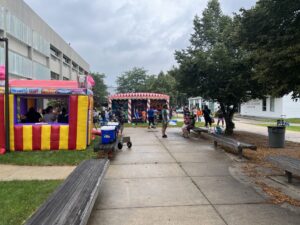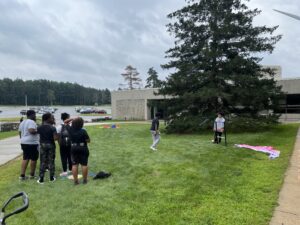 A snapshot of our day in action, where nourishment and joyful movement stole the show. We mixed delicious bites with invigorating activities, teaching these young hearts how nurturing the body nurtures the mind.
🌈 Why It Matters:
Our hearts beat with a passion for sparking change. We believe that understanding one's mental health is the key to unlocking one's potential. By introducing these bright minds to the hidden gems of our college campus, we're creating more than just an event. We're crafting a lifelong bond with MWCC, a place where curiosity thrives, opportunities abound, and belonging is second nature.
But here's the magic twist: it's not just about showing them a college; it's about them envisioning themselves there. We stirred inspiration and cool vibes into the mix, igniting dreams and showing them the possibility of becoming college students. More importantly, we armed them with tangible resources to nurture their well-being.
Our message? A healthy body and mind aren't just important – they're fun and achievable, especially through our Summer Fun themed activities.
🌟 Join the Movement:
So, whether you're a young adventurer on the cusp of greatness or an enthusiastic supporter of youthful dreams, remember: Healthy Minds isn't just an event; it's a way of life. Let's keep the spirit alive, celebrate well-being, and make every day a stepping stone toward a healthier, happier future.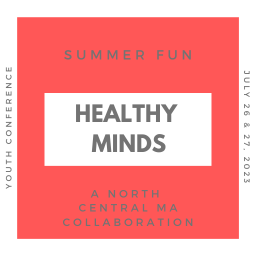 Read more: UNITED WAY YOUTH VENTURE AT MOUNT WACHUSETT COMMUNITY COLLEGE RECEIVES YOUTH MENTAL/BEHAVIORAL HEALTH GRANT
2022:
The Healthy Minds virtual conference is a collaborative effort of many youth-serving organizations in North Central Massachusetts (and beyond!). 
Click here to visit the event website!
Scroll below for videos of workshop sessions.
What did students and teachers have to say about the sessions?
Session survey question: "What is something new or different you will try as a result of this session?"
"Continue to better my public speaking skills."
"Start saving now in order to retire early!"
"Work on my leadership skills!"
Session survey question: "What did you enjoy most about this session?"
"I think they did a great job and were very engaging!"
"They were very informative!"
"All of the tips they shared."
"Interactive!"
Full event survey data:
95% of survey respondents believe that from being a part of this event that other students will take good care of themselves.
94% of survey respondents felt the event was well organized (structure, timing, sessions, topics).
94% of survey respondents would recommend Healthy Minds Virtual Conference to others.
90% of survey respondents were extremely comfortable or very comfortable enough to talk and ask questions at the event.
89% of survey respondents said the speakers and moderators were extremely interesting or very interesting.
The community partners who are hosting this event, along with MWCC's Portrait of a Graduate initiative:
Gardner CAC, Growing Places, Heal Winchendon, LUK., Inc., MOC Inc., Pathways for Change
What do we mean when we say "healthy"?
Healthy is a little different for everyone. For some it might be eating fruits and veggies or getting plenty of exercise each week. For others, it might be learning some ways to manage stress or deal with feeling lonely. And for others, it might be picking up some new skills or habits to set you up for a successful future life, like learning how to keep a healthy budget for yourself, or discover jobs that fulfill you.
The theme for the 2nd Annual Healthy Minds Youth Conference is Curiosity & Connection. We have been hearing from students about their struggles these last couple of years: to learn, make friends, be part of a community, be present, have goals, and so much more. For many, it is a challenge to feel hopeful about the future. Rather than emphasize the challenges, we want to reframe things for young people to take ownership over their own dreams and futures. Therefore, it was this mindset that helped us make the theme of Curiosity & Connection…two positive ways forward that can resonate with students of all ages in a fun and rewarding way that we believe can infuse hope back into the lives that are not feeling so hopeful these days!
Tell me more about Curiosity & Connection!
Curiosity is probably self-explanatory in a way, but it also seems to be a forgotten or lost skill. With our frantic pace of catching up on lost learning and rebuilding our new normal, it is easy to forget to chill out and have fun. Who has time to be playful these days anyway? However, when we are playful and take ourselves less seriously, we have the courage to try new things, play with new ideas, and explore and dabble…and all of those other enjoyable activities! For us, curiosity is a gateway to rediscovering what makes us happy and fulfilled, dreaming and setting goals for ourselves, and ultimately, thriving.
We think of connection not only as connecting as individuals in meaningful relationships, but also as an awareness of how things are interdependent in meaningful ways. Connections bring joy and purpose to our lives, and make small, individual pieces part of a stronger whole. Connection occurs when we are seeking belonging in our community, understanding how an academic concept has relevance in our everyday world, and gathering momentum for collaborative change.
Join students of the North Central Mass community as we learn from each other, from passionate leaders, and from community organizations who want to support you. This year's Healthy Minds event brings health and real-world skill-building to K-12 schools across the region with a theme of "Curiosity and Connection". Teachers and students will be able to select from breakout sessions that spark personal interests, satisfy curiosity, and help them plan for their future.
Please consider supporting 1500+ youth from North Central Mass by sponsoring this exciting and unique event. For sponsorship opportunities please visit https://uwyv.mwcc.edu/support-our-efforts/sponsor/
Thank you to our 2022 Healthy Minds sponsors