Teams Launched to Date:
Toy Town Helpers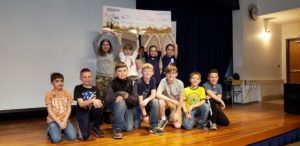 This year's Toy Town Team is dedicated to, and passionate about, helping the Gardner Animal Shelter. The Team collects and donates supplies and raises money for the shelter. They are holding a donation drive located at their school. Their fundraiser is a Scooby-Doo gummies and graham crackers sale for one week during all lunches. Snacks will be delivered to students a few days before school ends. The Team learned about the significant amount of homeless animals and how so many of them end up at a local shelter. The Team really feels a need to help these animals live the best possible life!.
Toy Town Helpers
This whole-school Venture Team is giving kids in hospitals an opportunity to read books to lift their spirits. Inspired by one of their own members of the 4th and 5th grade leadership team, Madi, who started Madi's Book Nook at Heywood Hospital (mobile cart of books for youth ER patients to read and take home), the Team decided to expand her Book Nook and make one available at HealthAlliance Hospital in Leominster. Through their research, the Team discovered that the average ER visit was two hours long, and without something to do or read, kids can be very bored. They hosted a book drive and have collected 350 books to get the Book Nook started in Leominster.