McKay Arts Academy has partnered again with Youth Venture for the 2017-18 school year. 
Teams Launched to Date:
School Funders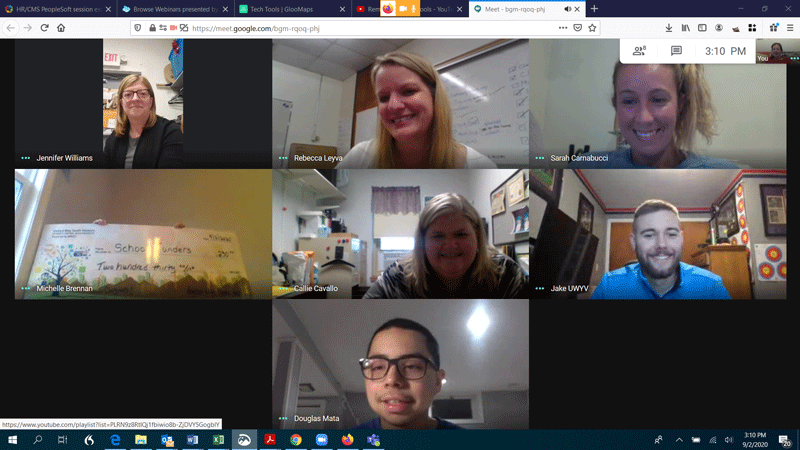 Douglas Mata, ninth grader at Fitchburg High School, worked diligently all summer with the support of two McKay Arts Academy teachers, Sarah Carnabucci and Nicole Bourgeois, to build a second Venture, and the FIRST one virtually. As a leader of the Code Breakers Team, launched when Douglas was in the 6th grade, Douglas felt confident in his action-planning abilities. When he repeatedly heard of the ongoing budget struggles and realized the additional burden teachers might take on to ensure their students have sufficient supplies for the year, he was inspired to create School Funders. Douglas feels a strong connection to his teachers at McKay and hosted a community-wide virtual trivia night fundraiser to support his heroes.
Anti-Bullying Squad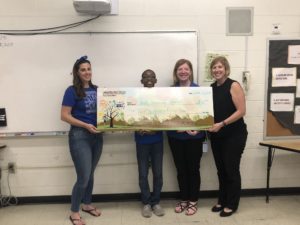 This Team is spreading awareness about the harmful effects that a person receives from being bullied. They educate the McKay population about proper social media use, and they raise awareness about cyber bullying by fundraising and bringing in experts who speak on this topic to educate the entire school.
Baking for a Cause
Baking for a Cause is using their love for baking to help students at McKay to be able afford field trips and school events. Sometimes these events are a bit costly for some families and they don't want to see any students miss out on attending any of these events. They hold McKay themed bake sales periodically throughout the year to create a fund for students who cannot afford to go on these field trips or school events.
Save the Seals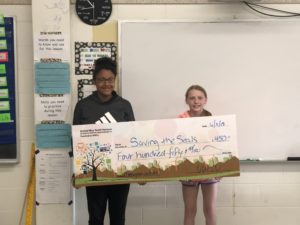 Save the Seals is focused on stopping animal abuse and spreading awareness about the reality of animal abuse. Specifically, the profits of their fundraising will go to an organization fighting to stop the clubbing of seals in Canada. They are also exciting about "adopting" seals from Canada.
Shelter for Animals
This Venture Team fundraises in creative ways to raise money to donate to animal shelters that are rescuing animals and finding them forever homes. One of their fundraisers is selling fun and creative tie-dye shirts.
Team Hunger
Team Hungers hosts a semi-annual basketball tournament to raise funds to buy their whole grade UNICEF Kid Power Bands. As the bands track steps, students will unlock funding UNICEF uses to deliver lifesaving packets of therapeutic food to severely malnourished children around the world.
Animal Savers
This Team is passionate about animals and especially dogs. They learned about the Buddy Dog Animal Shelter and decided this would be the organization they would support. They sell branded merchandise to raise funds to donate to this shelter.
Mental Health Helpers
The Mental Health Helpers raises awareness about mental health issues. They want to make change and remove the stigma associated with mental illness. They invite speakers to their school to speak to students about the realities of mental illness and share what resources students have available to them.
Child Caring Society

The Child Caring Society Team works with DCF and local foster homes to help buy supplies for local foster children. They are hosting a community event to include everyone in their efforts. At this event, the Team hopes to garner more attention about DCF and share the rewarding opportunity about being foster parents.
Fight Cancer
The Fight Cancer Team raises money by selling their own branded t-shirts around their school and their community. They then donate these funds to cancer research hospitals. They partner with these organizations in order to help alleviate medication costs and other out-of-pocket expenses for cancer patients.
Cookie_Pawz
Cookie_Pawz is a Team that loves animals and feel sad for animals that end up in shelters. They fundraise to support and help local animal shelters. They started a dog sitting service, which is one of their primary sources of income to earn money to be able to donate to these shelters.
Save the Homeless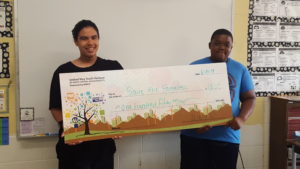 This McKay Venture Team is passionate about helping the homeless population in their area. They hold fundraisers to be able to donate to Our Father's House in Fitchburg. They do not think anyone should be homeless but if they are then want to at least help the organizations that support this population.
Let's End Bullying
Inspired to take action because "it's sad how people treat others," this Venture Team provides an anti-bullying message to students at their school and throughout their city. Let's End Bullying's goals include teaching 75 students how to stick up for each other, growing a larger team of anti-bullying advocates, and hosting an advocacy-based fundraiser at Coolidge Park with featured inspirational speakers.
Code Breakers
It is estimated that by 2020, one million computing jobs will go unfilled because the workforce is not skilled with coding, yet someone who graduates from college with a computer science degree is likely to obtain a high earning and desirable position immediately. The leaders of Code Breakers understand that learning coding language is an essential skill for them and their peers. The Venture is committed to expanding resources for their school, both in-school and afterschool, with a kid-friendly retro PC game tournament and donate-to-participate costume days.
Language Club
After growing up in a family that spoke many different languages, the lead Venturer of the Language Club Venture Team realized that schools were not doing enough to teach this valuable skill to their students. She discovered that students get bored from their limited choice of language class options and of trying to learn a new language in a classroom setting. This club is bringing fun to language instruction and giving the students an opportunity to learn unique languages not typically taught in school such as Arabic and German. This team hosts fun multi-cultural potluck events as a means to buy fun language books, games, movies and other activities to teach the students in an entertaining manner.
Helping Paws
As lovers of animals, the creators knew when they heard about the UWYV program that their focus would be on trying to help all those animals out there who are desperately waiting on a nice family to call home. These girls are using their connections throughout the Leominster and Fitchburg communities to raise awareness about the issue of stray and homeless animals and to raise money to support the local efforts of the Fitchburg and Leominster Animal Shelter.
Natural Disaster Fighters
In today's world it is almost impossible to not check your television or social media pages without seeing another story about a natural disaster impacting the lives of many people, often with multiple disasters occurring at the same time. The boys of Natural Disaster Fighters are making an effort to support the victims of these disasters by raising money to donate to the American Red Cross, selecting specific disasters to donate to as they occur. Their first fundraiser is a Summer Bounce at Roll-On America.
Rocco's No Knuckles Chance
With two of the team members having rescued their animals from abusive homes, these girls knew that it was their mission to ensure that other pets do not have to endure similar abuse. Through awareness and fundraising events across the city, the girls are raising enough money to support the Sterling Animal Shelter to continue to save other dogs from dangerous conditions and get them into good homes.
Help Us Fix the Roads
After driving on a very 'rough' Rindge Road every day to get to class at McKay Arts Academy, the students of this Venture Team decided enough was enough and took on the challenge of raising money for road repair. These boys hold various fundraisers around the city of Fitchburg, including a polar plunge challenge, to raise money and awareness to the needs of repairing Fitchburg's roads, making sure the city has safe travel routes for all of its residents and guests.
Cancer Relievers
Having all had friends or family who have been impacted by cancer, these girls knew they wanted to do more in helping support those victims of the diagnosis. Seeing how cancer can be especially traumatic for kids, the girls are raising money for St. Jude's Hospital, which specializes in both treating children with cancer and doing research into putting a stop to childhood cancer. They are hosting bake sales and selling merchandise across Fitchburg to raise money for St. Jude's Hospital.