Partnering again with Longsjo Middle School in 2017 has been rewarding for UWYV as well as the Longsjo students. We are looking forward to a long and fruitful collaboration. 
Teams Launched to Date:
L.H.C.A. Let's Help Cancer Awareness
Mei'yah and Sam of Let's Help Cancer Awareness (LHCA) showed their love for children with cancer and their families by putting together a plan to donate new stuffed animals to temporary residents of Why Me Sherry's House in Worcester. Sherry's House provides a welcoming and supportive environment for families dealing with a childhood cancer diagnosis. When asked why the girls selected this cause, they each shared about the emotional impact of watching a loved one struggle with cancer. This is a way for them to do something and give back. These Venturers very cleverly designed a budget that required no seed funding support. They are hosting a 50/50 raffle to raise awareness of cancer.
Inclusion Illusion
Inclusion Illusion is a Longsjo Middle School Youth Venture Team that is creating a unified sports team at their school. Through their fundraising efforts, this Youth Venture Team is also providing social supplies for the inclusion classes. Inclusion classes are made up of students with disabilities that learn alongside their non-disabled peers in general education classrooms. This motivated Team of sixth grade girls spends their ELT helping students in the inclusion classes by teaching them social skills. They are also playing with and teaching inclusion students basketball and volleyball, with the ultimate goal of creating a unified sports team. These girls are inspiring other students to get involved as well - six other students are on board to help this Team succeed. These girls are positive role models and mentors inspiring AND motivating through inclusion and what it means to be inclusive.
Dream Helpers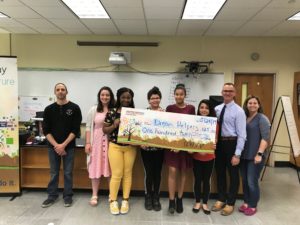 This Longsjo Middle School team is helping local foster children. They have friends who have spent time in foster care and they know that they struggled when they moved and trying to adjust to a new environment. They are partnering with Fostering Change a local non-profit that supports foster families. The Team raises money to purchase and donate backpacks filled with personal care items for foster children. Their fundraiser is a "Jolly Rancher" count where students can guess the number of Jolly Rancher candies that are in a jar.
Water Savers
This Youth Venture Team is bringing clean, cool drinking water to Longsjo. There are currently only two water bubblers in the entire school. According to this team, the water is always warm, doesn't taste very good, and most students do not like drinking from these bubblers. They are raising money to bring the Elkay Water Filling Stations to Longsjo. They are selling water bottles to students, staff and faculty that they will be able to use at these new water filling stations.
Life Savers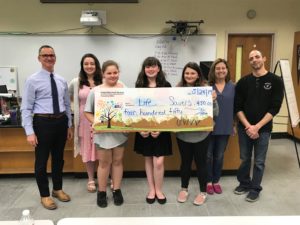 This Longsjo Middle School Team feels such empathy for children who are ill and in hospitals. They raise money to donate toys to children that are hospitalized for a lengthy stay. They are partnered with Boston Children's Hospital, which has provided a list of appropriate items for each age group. They host a "Life Savers" fundraiser, selling packs of lifesavers. Within five packs of these lifesavers will contain a "golden ticket" and the person who has one of these tickets will win a gift card to Five Below. With the money the Team raises, they will purchase the items needed and deliver them to the hospital
Hope Givers
Cancer is already an extremely difficult battle for families and the person suffering with the disease, but here comes the Hope Givers with exactly that….HOPE! These students provide a distraction to these families, in the way of toys and games while they have extended stays at local hospitals. They are engaging their school community by doing fundraisers to help raise money for gifts.
Big Donations for Tiny Lives
This group of students are making a big difference in the lives of tiny animals. They were inspired by the model of the UWYV program that just because they were young didn't mean they couldn't make a difference. They involve their school community in helping them raise funds to donate to animal shelters.
Animal Rescue League
Animal League to the Rescue! This team goes out into the community to learn the needs of shelters and help to rescue pets that have been left out in the cold. They implement service learning into their Venture by volunteering at local shelters. They also collect donated items to help offset the shelters' spending costs.